About New Life Evangelical Lutheran Church
Our Name
The name of our congregation comes from Acts Chapter Five. On the day of Pentecost, the Apostles boldly proclaimed the good news of forgiveness through faith in Jesus. Because so many people in Jerusalem believed this message, some of the religious leaders of the day became angry. They had the apostles thrown in prison. That night, the angel of the Lord opened the doors of the jail and led them out. "Go stand in the temple courts," he said, "and tell the people the full message of this NEW LIFE." (Acts 5:20).
We chose this name for our congregation to remind us of the new life we have through faith in Jesus. We believe that our God works in our lives through His life-giving word and sacraments. We count on God the Holy Spirit to work in us so that we can live our new life to the glory of God.
Our History
Originally, a small group of people began to meet weekly for Sunday morning services. The first meeting place was in Wheeling. The group was served by pastors from area Wisconsin Synod churches. The area pastor would conduct Sunday services, and then return to his home congregation. This arrangement existed for about nine years. In the Spring of 1986 New Life's first full-time pastor was called, and the congregation was officially organized. The congregation met for approximately 12 years in Buffalo Grove using rented facilities. In June of 1999, New Life purchased our current worship facility, which is located at 910 S. Old Rand Road in Lake Zurich. After several months of renovation, the congregation began using the facility at the end of December 1999. Our facility size was doubled in August of 2010 with the dedication of our new Education Complex.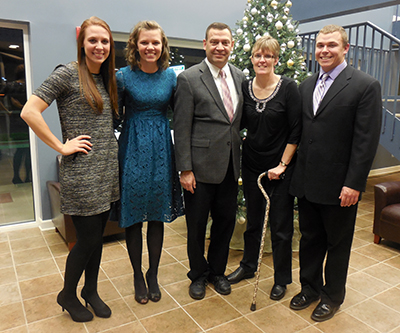 Pastor Andrew Bauer is New Life's current pastor. He originally hales from North Platte, Nebraska, the sixth of seven children. He grew up first in Denmark and then Two Rivers, Wisconsin. In 1981 he graduated from Manitowoc Lutheran High School. In 1985 he received a Bachelor of Arts degree from Northwestern College in Watertown, Wisconsin. In 1989 he graduated from Wisconsin Lutheran Seminary in Mequon, Wisconsin, with a Master of Divinity degree. Pastor Bauer also received a Master of Science degree from Winona State University in 1995.
Pastor Bauer's assignment out of the Seminary was to serve the dual parish of Good Shepherd in Holmen, Wisconsin, and Bethel in Galesville. Pastor Bauer married Rachel Mickelson in June of 1990. Their marriage has been blessed with three children, Lydia, Audrey and Jeremiah. In 1995, Pastor Bauer accepted the call to New Life Lutheran Church in Buffalo Grove. He's been the pastor of New Life ever since. During his time of service, New Life moved from Buffalo Grove to Lake Zurich. The congregation purchased and renovated an abandoned Baptist church building in Lake Zurich, began a preschool and completed an addition doubling the size of the original building.
While at New Life, Pastor Bauer also worked to establish Training Camp, a Lutheran Camp for kids. He's also the author of A Lutheran Looks at Mega Churches, a booklet published by Northwestern Publishing House in 2013.
Our Lutheran Heritage
As Wisconsin Synod Lutherans we believe, teach and confess that salvation is ours by the grace of God, which is His undeserved mercy, through faith in Jesus Christ as taught in the Word of God. We hold to the Bible as the completely true and inspired Word of God, the only source and authority for Christian faith and life.
Our Confession
"For God so loved the world that he gave his one and only Son, that who ever believes in Him shall not perish but have eternal life." (John3:16) This is the sum of our faith. On the basis of this and many other passages in Scripture we believe, teach, and confess that:
There is one God, who has revealed Himself as the Father, Son and Holy Spirit (the Triune God).
Mankind and this world are God's creation.
Because the first man and woman disobeyed God, all people are conceived and born in sin and throughout their lives commit sin in thought, word and deed. As a result, all people are naturally under God's condemnation, deserving His anger and eternal punishment.
God sent His own Son, Jesus Christ, into this world to be the Savior of all people. He satisfied God's justice by living a perfect life in our place . He suffered the consequences of this world's sin by his crucifixion and death. He thereby paid for the sins of the world.
God raised Jesus from the dead giving us the certainty of our salvation.
At death our sould goes to be with God in heaven.
At the end of the world, Jesus will come back and judge the living and the dead, taking all who are God's own by faith in Jesus to live with Him forever.
Our Services
We worship with a variety of services and in a number of ways:
Sunday worship & Communion services
Special Services for Thanksgiving, Christmas and Lent.
An Adult Vocal Choir and Tone Chime Choir.
Adult and Teen Bible study, and childrens' Sunday School.
Vacation Bible School in late summer.
A week long kid's camp called "Training Camp" in July.
One day Easter and Christmas Vacation Bible School sessions.
The "Branch Connection" Ladies Group
"Green Team" (Lutheran Pioneers)kids' group