Thanksgiving with the Sailors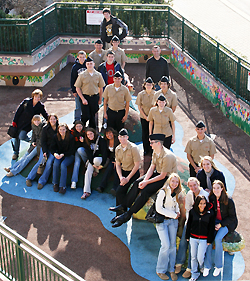 On Thanksgiving Day, November 23rd, New Life will host a day of fun and relaxation for 12-15 recruits from Great Lakes Naval Station. This will be New Life's eleventh year of sharing Thanksgiving Day with those who are away from home preparing to serve our country on the sea.
The event will be held at New Life Lutheran Church from 12:00 noon until 4:00pm. The Thanksgiving meal is served at noon. From 2:00 - 4:00pm, the sailors and attendees will participate in various games. Finally, the sailors will go to the Brunswick Zone for bowling and pizza from 4:00-6:00 PM.
New Life is extending an invitation to anyone in the community who would like to attend, or to help with the preparation and serving of the meal. There is no cost to attend, but please RSVP (by phone, eMail or through the form below) by Monday, November 20th.
New Life will also be hosting a Thanksgiving Eve service, followed by a Stone Soup supper, on Wednesday, November 22nd. The service starts at 7:00pm; the supper at 8:00pm. All are invited to attend.
There is no cost or obligation required to attend any of these events.
Contact New Life at:
Tel: (847) 438-5018
eMail: nlelc@aol.com